Released in 1968, The Bed rocked the experimental film world with its liberal portrayal of bodies and the senses, and sensuality, we all experience through them. Shot on the rolling hills of California, sunshine lights up each actor as they play through scenes that explore physicality in all it forms. Bright Lights Film Journal has this to say about The Bed:
Broughton was apparently mostly busy in the 1950s and '60s with his poetry, but returned to filmmaking in 1968 with the fanciful The Bed. The film's central image is arresting and hilariously absurd — an empty bed is traveling leisurely down a hill as if it were a car. Eventually it settles in a meadow and becomes the locus of all manner of strange scenarios and woodland trysts. Characters — mostly naked — appear suddenly on its sheets. Broughton [actually Roger Somers – ed.] pops in as a kind of laughing Pan, sitting nude in a tree serenading a series of revelers. He ridicules conventional rituals when a woman arrives and officiously begins making up the bed. More typical, though, are the polymorphous pleasures of wriggling bodies apparently liberated by the bed. Broughton brings nature in harmony with humanity in odd and intriguing ways, as when a woman in close-up encounters a spider and reaches out to kiss it. In another scene, a live lizard appears to slither out of a man's mouth.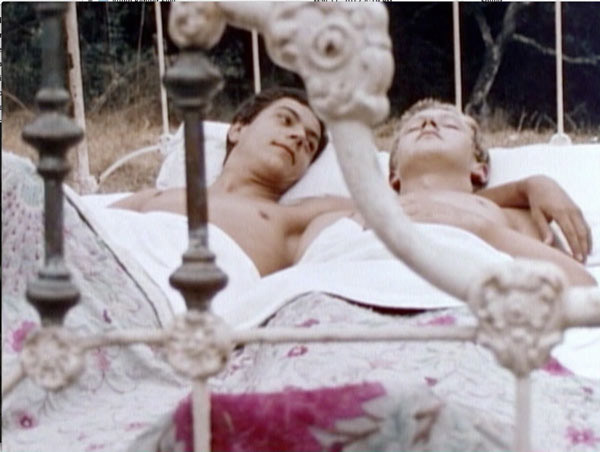 The Bed presented viewers with a world of free love. Never before had moviegoers experienced a visual ode to the body, with nudity and sexuality of all kinds in abundance. In fact, the film had so many naked bodies that regular film printers refused to touch it. James Broughton instead used a company that produced pornography to print the film after hours. In part because of its audacity and courage in portraying bodies, The Bed became an instant hit all over the West Coast, receiving hundreds, if not thousands, of showings in art houses all over. James once said "It was the only film I created that ever made any money."
Watch the free PG preview on our James Broughton Cinema You Tube channel.
(Be aware: full frontal nudity is featured)
Discover more about James Broughton's films.