"This movie could start a movement." Daniel Villarreal said to us one day. Followed closely by, "It needs a manifesto."
Villarreal took the idea and ran with it. Not only did he create one, he read it last weekend at the Texas Theater Open Mike after the screening of BIG JOY.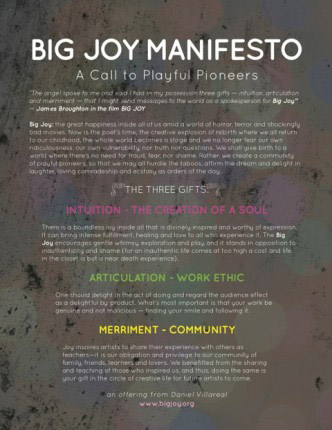 When we asked what inspired him to write it, he said, "I was thinking specifically about encouraging Big Joy salons and giving others a jumping off point for their own experiences." In other words, a document to spur discussion in living rooms, or in theaters—both to encourage individual passions and to discover ways to create more energy locally or add "weird" gifts to the community.
That's important to him. He's recently started a Dallas organization called Queerbomb. He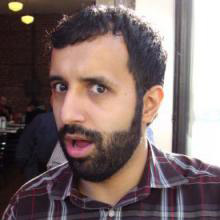 described it as an alternative to the once-a-year "corporate" Pride Parade. "We focus on queer friendly, locally funded, cultural events throughout the year that use artistic direct action to help create progressive change in our own local politics," he explained.
"It's very come-as-you-are. We encourage people to use their gifts, and we appeal to their higher better selves to contribute to the community." For example, in February they held an event called Lovebomb where they offered queer performers a space to express themselves.
He described to us how, though Dallas is a very conservative city, there are a lot of "progressive, visionary, unorthodox thinkers and performers." "This event started to bring these people together and to help them see that they have a community—where before they were very scattered."
Mentoring is also big in Daniel's life, though not because he had them. "Most of my mentors have been dead writers," he laughs, "more of influencers really. Social outcasts and weirdos that were heavily criticized in their day… It's nice to know you're not alone in that!" But mentoring others through tutoring or teaching writing is one of the ways he contributes his gifts locally.
He considers
it a privilege—something he has seen create positive change in both students and himself. And he added, "All sorts of really great creatives and geniuses don't ever get the opportunity to study with people who give a damn about them or who want them to become brilliant exceptional people." Mentoring changes that.
In response to his own manifesto he's also writing. It's what he does, really. He says seeing BIG JOY gave him more enthusiasm and encouragement to keep working on his own novel.
"I feel like everyday we are given an opportunity to reassert our authenticity, to practice, and revel in it— but many of us sidestep it because of fear, or inconvenience, or what we perceive as familiar or social obligations. The truth is in not only recognizing your gifts and your problems but acting to utilize and resolve them."
Well put Daniel! Thank you for your words.
Manifesto: a public declaration of policy or aims.  
What would your personal Big Joy manifesto say?