"Behold the Bridegrooms Revisited"
FREE
Saturday, June 21 at 7pm
Fiesta Hall – Plummer Park
7377 Santa Monica Blvd
West Hollywood, CA 90046
BRAND NEW SHOW by Jason Jenn (creator of ECSTASY FOR EVERYONE)
"Behold the Bridegrooms Revisited" is a poetic celebration of the wondrous words by award-winning filmmaker and poet James Broughton. Performance artist Jason Jenn brings to life some of James Broughton's most inspiring, love-infused poetry set to live cello music (by David Mergen) followed by several guest artists (see full list below) recreating a colorful staged reading of Broughton's 1978 marriage to partner Joel Singer. The wedding text is full of lyric beauty and splendor that stands as a monument to queer love and sexual liberation.
2014 marks Broughton's centennial year and is part of bringing greater awareness to this California cultural figure alongside the recent documentary "Big Joy: The Adventures of James Broughton." Broughton was an original member of the Radical Faeries, The Sisters of Perpetual Indulgence, and a pre-beat poet who was part of the San Francisco Renaissance movement. More information and the movie trailer can be found at www.bigjoy.org.

Guest Artists:
David Mergen
Sky Palkowitz
Atasiea Kenneth L. Ferguson
Robert Patrick Playwright
Blu Donald Richard Blues
David Parke Epstein
David Lawrence
Bill Mayer
Qlint Steinhauser
**** "Behold the Bridegrooms Revisited" is preceded by "A Midsummer Afternoon's Queer Wedding Reception" in the Fiesta Hall courtyard hosted by Apt 3F & Planet Queer from 2:30-6:30pm, so it will be a fully festive Summer Solstice program of events to remember.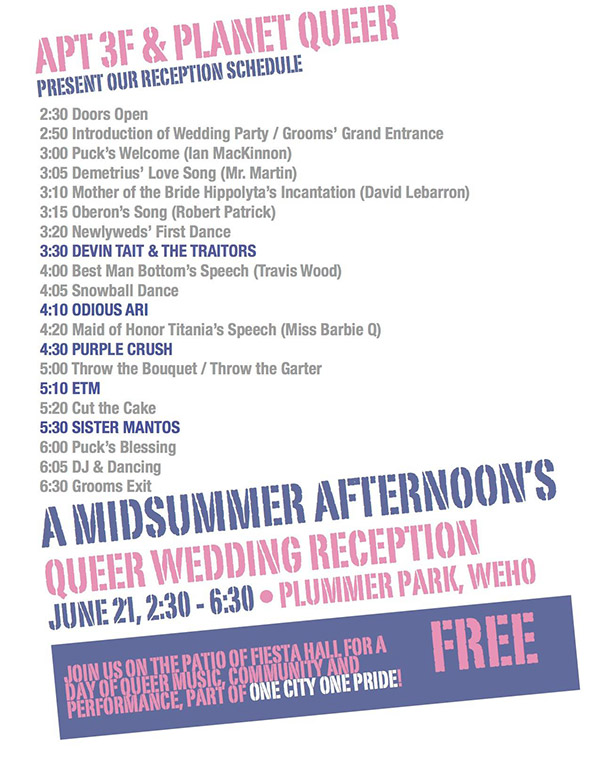 ****This event is presented as part of the City of West Hollywood's One City One Pride LGBTQ Arts Festival, which this year celebrates marriage equality with the theme 'I Do' between May 22 – June 30, 2014. To see a full roster of events please visit www.weho.org/pride.


Dear friends of love, divest yourself of grouch,
be intimate with cheer, be generous with caress.
For here at twilight on this venerable barge
an uncommon wedding shall be gayly solemnized.