Excerpted from his books, Coming Unbuttoned, and Making Light of It.

When I made The Bed I thought it was a one and only last picture show. I had not made a film for 13 years and I was prodded into "just one more" by Jacques Ledoux of the Belgian Film Archive for his international experimental powwow of 1967. All I did was express how life felt to me in my 50's. The Bed has no special style, there isn't a trick in it, it is all straight cuts. I wanted to show as directly as possible my vision of the flowing river of existence and I thought of it as a private communication to an old friend in Brussels. The public success of the film astounded me.
[Shortly before filming
The Bed
] a perky young redhead bounced into my office one afternoon, greeted me with praise and offered his services as a cameraman whenever I should need one. Fire danced in his Leo eyes and eagerness galvanized his body. He had escaped from family proprieties in St. Louis and from film studies at Stanford in order to embrace hippie life in San Francisco.
As he had bounced in, so he bounced out. Taking his leave he leapt to the
window and jumped. By the time I reached it, anticipating the sight of his bloody remains two floors below, he stood in the street waving to me and grinning. I knew then and there that I had found a collaborator who could take me flying. Thus Bill Desloge became my acrobatic agitator that summer of 1967. Ever fearless of limb he was indifferent to gravity: I photographed him flying through the air the same day he filmed me as a naked sage with a snake.
That year of 1967 had begun with the great psychedelic Be-In in Golden Gate Park launched by old friends Ginsberg, Snyder, and McClure, then progressed to the Summer of Love in Haight-Ashbury, and climaxed with San Francisco's ascension to LSD capital of the world. The new approval of sensualists had caught up with my long-cherished desire to celebrate the flexible beauties of the body unclothed. How could I express this on film?

I had become obsessed by beds, by the bed as humanity's most enjoyable article of furniture. I had written "a play in four bedrooms" called Bedlam: four undressed dramas occurring concurrently in four Modesto locations. I had even proposed a revue called Beds to Herbert Blau at his Actor's Workshop. Neither of these projects had reached production stage. Therefore in considering a film to delight a discerning sybarite like Ledoux, I devised scenes for a romp of the human comedy enacted on a bed in an open-air Eden. The argument of my vision was simple enough: "All the world's a bed, and men and women merely dreamers."
To begin, I needed a bed and a place to photograph it. An antique shop in
Sasalito let me "borrow" a sturdy white wrought iron double bed. (When I "returned" it months later, the bed had been reduced to a bundle of chipped metal parts held together by ropes.) As a location site for an undressed caper, what could be more congenial than Druid Heights?  It had the advantage of remoteness and a mountain meadow to work in. The remoteness became a disadvantage only when a prop, a tool, or an absent performer had to be fetched. Roger Somers played his saxophone as a naked Pan, Alan Watts portrayed a doctor of both medicine and divinity, Elsa declined to be involved in any way. I needed many examples of Adam's descendants to populate my intimate vaudeville of desire. I enticed old friends to participate: Imogen Cunningham, Jean Varda, Kermit Sheets, Gavin Arthur, and famous model Florence Allen, as well as members of Anna Halprin's dance company. Deslodge provided young beauties and hippie pals.
In that season of "Make Love Not War," Druid Heights enjoyed a blithe summer. Picnics and pot kept the mood festive. Inventing escapades for the camera excited me. But The Bed almost didn't make it to Belgium in time. When it was finally edited I could not persuade any commercial laboratory to print it. From Eastman in Rochester to Consolidated in Los Angeles I received curt refusals: it was against official policy to print "frontal nudity." Finally I located an illegal pornography outfit which printed much frontal nudity between midnight and dawn in the rear of a building on a back street in East Palo Alto.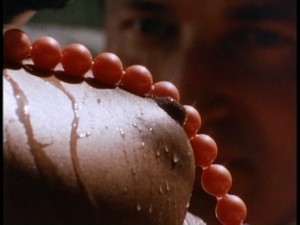 To my astonishment The Bed won many prizes at world festivals. Furthermore it broke a taboo: frontal nudity soon populated all avant-garde screens. Only two years later my subsequent project, totally nude The Golden Positions (soon available for online streaming), encountered no difficulty with any printer. To my further astonishment, The Bed came into widespread use as a relaxing introduction to consciousness-raising seminars and training programs for social, hospital, and psychiatric workers. When I was about to undergo a colonoscopy at the Marin General Hospital, the attendant nurse saw my name on the chart and cried out, "Doctor, did you ever see The Bed? It's the most wonderful crazy movie you could ever imagine," babbling on until the doctor barked, "Nurse, let's pay attention to our work. Please anesthetize the patient in the right buttock."
With notoriety I was better able to garner support for film projects and was offered additional teaching at the San Francisco Art Institute.  Also I was asked to serve on the selection committee of Anthology Film Archives with Jonas Mekas, P. Adams Sitney, and Peter Kubelka. Jerome Hill financed my acquisition of an editing studio and the equipment for it, as well as making possible The Golden Positions.  Other friends aided later works. I owe to Pauline Kael my grants from the Guggenheim Foundation and to Sally Dixon of the Carnegie Institute my NEA (National Endowment of the Arts) awards. With these I rolled into a momentum of activity, producing a film a year from 1968 to 1974.
After honoring the Dance of Life in The Bed I paid tribute to the Human Body (in The Golden Positions), to the Eternal Child (in This is It), to the Eternal Return (in The Water Circle), to the Eternal Moment (in High Kukus), and most ambitiously to the Eternal Feminine (in Dreamwood).
MORE ABOUT THE BED:
Watch The Bed
Groundbreaking Nudity in a Film
The Bed: Changing the Way Bodies are Seen
The Bed preview on You Tube
The Bed Mash-up by Geoff Watland (Includes nudity)
James Broughton's poem, "Song of the Bed" set to video by Galen Garwood
"The Bed" preview on You Tube: